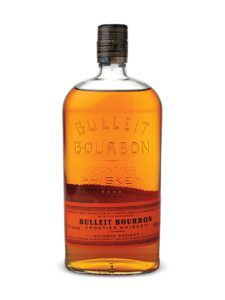 Today we are sipping on Bulleit Frontier Bourbon. This is their orange label, 90 proof juice, is widely available and goes for around $30 or under for the 750 ml. No age statement on the bottle but with a little snooping on the Internet we think it is around 6 years old. This Bourbon, like all of Bulleit's, is corked and comes in what  resembles an old medicine bottle.
NOSE
Ron:    I got aromas of leather, spice and sweet caramel notes.
Todd:   I got a nose of oak, sweetness, Rye and alcohol.
TASTE
Ron:   Sipping neat I tasted the rye, some spice and a little caramel.  The heat was  as expected for a 90 proof Bourbon. On adding one ice cube, the rye was really enhanced. Heat obviously reduced.
Todd:  I definitely get rye upfront on the taste, maybe a little vanilla, a spicy note as well. And a little sweetness. Adding ice brings out even more rye.
FINISH
Ron:  The finish was long to extra long with a  warm, sweet ending. The ice reduced the finish somewhat.
Todd:   Finishes pretty long with a nice lingering sweetness.
OVERALL
Ron:  To be honest, when I first had this a few years back I did not think much of it. Todd has always liked it and convinced me to give it another shot. Glad he did, don't know if my taste bubs were off that day or maybe they have evolved. I am now a Bulleit fan.
Todd:  I have always been very fond of this stuff. I find it somewhat unique and very approachable.
Nose    3.5 out of 5.
Taste    8 out of 10.
Finish   3.5 out of 5.
Total score   15 out of 20 barrels.
All and all, a very good Bourbon. We like to think of this as your everyday Bourbon or maybe your patio Bourbon. It is good neat, on the rocks or in a bourbon heavy cocktail such as a Manhattan or an Old Fashioned.   Being around $30 makes it a good price point, but a little too high to mix with colas, if that is your thing.