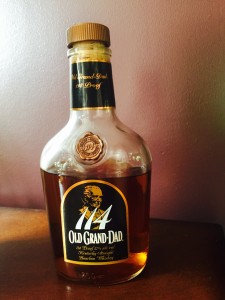 Today another real old name in Bourbon, Old Grand Dad. OGD traces it's roots to 1840! Many of you are familiar with the orange label, traditional, bottom shelf dwelling Old Grand Dad. This is not it!
OGD 114 comes in a corked bottle that is shorter than their regular stuff, by that I mean the 80 proof and 100 proof expressions. It has a black label and can be found just about anywhere they sell Bourbon. Usually goes between $20 to $25 and is, duh, 114 proof. We could not find an age statement on the bottle nor online.
On a side note, the picture on all OGD Bourbons is Basil Hayden, another legendary figure in Bourbon lore.
NOSE
Ron:  Great nose, I got the usual caramel, oak, and vanilla. Under that I could detect traces of citrus, leather and even a little chocolate.
Todd:   At 114 proof it was almost too hot to smell anything, about burnt my nose. With a little water, I too got the caramel and the oak. Also had secondary aromas of sweet leather, citrus and chocolate.
Funny thing,  while tasting, we both said chocolate at the same time.
TASTE
Ron:   Hot! Needs water, even hot then. Finally, after 2 cubes melted I got a very good sweet taste of caramel, oak, vanilla, spice and leather. Also got a hint of what reminded me of a praline.
Todd:   Wow! You have to be more of a man than me to drink this neat. I too let 2 cubes melt completely then added a little water. Having said that, once done I got a lot of flavors, including toffee, wood, and spice. It was also somewhat sweet and it seemed I could detect a trace of smokiness.
FINISH
Ron:  Long finish that has a citrus taste as well a a little musty.
Todd:  Nice finish with a touch of what I can only describe as a medicine like flavor.
OVERALL
Ron:  For the price, this is a must have.
Todd:   After a lot of water/ice. I found this to be a very engaging Bourbon.
Nose    4.5 out of 5
Taste    8 out of 10
Finish   4 out of 5
Total           16.5 out of 20 barrels
OGD 114 is a great value and a really good drink. Just remember to water it down a lot. Being 114 proof is even more of a deal because you are buying  less water.  Given it's spicy nature and since it has such a high proof, we found 114 to be a good mixer as well.