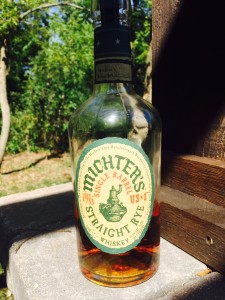 We have a new guest taster today, Talking Bourbon welcomes Dan to try Michter's Rye, part of the Michter's line in which we are big fans. Dan is a lover of Bourbon, Irish Whisky and wine, in other words, one of us.
Michter's Single Barrel Rye, US *1, for the full name, sells for around $40, comes in a pretty basic looking corked bottle. It is aged at least 3 years and then, according to their site, is chill filtered. Whatever that means. Michter's Rye is bottled at 84.8 proof and is pretty widely available.
NOSE
Dan:   I thought it smelled light and smooth with some citrus and berry notes, like Blueberry, Raspberry, Strawberry etc.  Also got a little caramel and vanilla.
Todd:   A very good, fresh aroma with honey and black fruit very prominent up front. I also got a touch of cinnamon. When I added ice, I got a strong nose of caramel.
Ron:   Very enjoyable complex nose with notes of caramel, leather, tobacco, praline and vanilla. I detected the cinnamon that Todd got.
TASTE
Dan:   Neat I got a lot of smoke and oak, reminded me a little of Chardonnay.  With ice the whole thing really mellowed out.
Todd:   Very smooth with a spicy/sweetness. Also got hints of caramel, citrus, and just a touch of anise.
Ron:   Lots of flavors here. Starting with a wood/ vanilla taste, followed by cinnamon, clove and tobacco.
FINISH
Dan:   Med-long finish with a touch of tobacco.
Todd:   Nice long finish with a vanilla, nutty ending.
Ron:   Med-long finish with nuances of leather.
OVERALL
Dan:   I believe this was the first time I tasted Michter's rye and I really enjoyed it. Has a good nose, taste and finish. I will definitely be enjoying this again.
Todd:   I agree, really enjoyed drinking this. Michter's Rye might just be my favorite Rye, sorry Bulleit.
Ron:   One of my favorites. Definitely a "go to" drink, and a  must have in your cabinet. I always will.
Nose      4.75 out of 5
Taste      9.25 out of 10
Finish     4.5 out of 5
Total           18.50 out of 20 Barrels
Well it doesn't take a genius to see we really liked Michter's Single Barrel Rye. In fact we love everything from the Michter's line of Bourbons, American Whiskeys and Rye. This Rye has a great nose, complex taste and a nice finish.  All this at a reasonable price.
MSBR also makes a fine Manhattan or Old Fashioned, but is so good straight or with a little ice, why mix it?
Final verdict, stock up!!