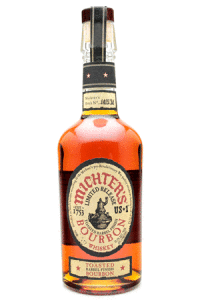 We have a new guest taster, today we welcome our friend Richard. Both of us have known Richard a long time but he is just lately getting into Bourbon. He has been and still is a big fan of Gin.
We are tasting today with Richard, Michter's Toasted Barrel Finish. We, (Ron and Todd) have been drinking this for a little more than a year when it became available in our market, and have really enjoyed it. This is Richard's first taste. Since the bottle states that it is a limited release, we were not planning on reviewing it, thinking it would be hard to find or not be around long. But we have been able to consistently find the bottle in liquor stores that have a good Bourbon selections.
Toasted Barrel Finish comes in the same "Old School" corked bottle that all Michter's comes in. Goes for around $45 and is bottled at 91.4 proof. When it was first released last year it sold for about $37 but its popularity has driven the price up. It is different than other Bourbons because after the regular aging in charred barrels, it is then finished aging in toasted barrels. We are not sure of it's age.
NOSE
Richard:  I didn't get a lot, a little woody type of smell. Later with a little ice I thought I could pick up a musty aroma along with smoke.
Todd:   I got the wood and mustiness  as well, but more in the back ground. Upfront it reminded me of sherry with a touch of cocoa and honey. Also a little fruit, a very pleasant nose.
Ron:  I didn't get anything that you two picked up except for a little wood aroma. I detected the usual caramel and vanilla along with some tobacco notes as well as raisin and rye.
Todd: Raisin and rye, sounds like a bread.
Ron: Whatever Todd.
TASTE
Richard:   Again, like the nose, I didn't get a lot on the tongue. Mainly just a sweet woody taste. Liked it better with some ice.
Todd:    I tasted most of what I smelled, sherry, wood, honey, mustiness, and cocoa. Also tasted some caramel and vanilla that Ron got on the nose. A little hot neat.
Ron:   I also tasted what I got on the nose including the raisin and tobacco. Add to that a spice and some kind of black fruit taste that I could not pinpoint.
FINISH
Richard:  Sweet medium-long finish.
Todd:   I agree, sweet medium-long finish, but I also got something I can only describe as a dusty taste at the end. Not in a bad way.
Ron:   Medium long with a wonderful decrescendo.
Nose       4.5 out of 5
Taste       8.5 out of 10
Finish     4.25 out of 5
Total               17.25 out of 20 Barrels
We like everything from Michter's and Toasted Barrel Finish is no exception. The price is a little on the high side but you are getting a unique Bourbon. And while we found it in a lot of stores, most people we talked to have not heard about it. So you can impress a Bourbon loving friend as a gift or proudly displaying it in your Bourbon cabinet.
We found it also makes a good Bourbon cocktail as well as being good with a few cubes. The unique taste along with the background story of why makes for good presentation. The bottle we tasted was from the 2014 batch. Michter's has just released the 2015 batch. We recommend you give it a try. We also recommend you do it soon just in case they weren't kidding about the limited release.