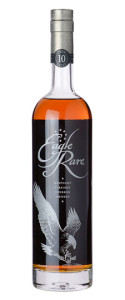 The weather in Indiana changed, go figure, so after a few weeks of doing our tasting outside, the cold has returned, moving us inside. But we can still enjoy sipping on some good Bourbon.
Up today is Eagle Rare Kentucky Straight Bourbon Whiskey from Buffalo Trace, a distillery that Todd has visited and Ron Really, Really wants to visit. Eagle Rare is bottled at 90 proof in a tall, slender, good looking corked bottle with an Eagle on the front. It sells for around $30-$35 and is readily available.
NOSE
Ron:    A very good nose with caramel, oak, and spice up front. This is followed by slight scent of anise, tobacco and fruit.
Todd:    I agree, good nose with brown sugar, vanilla, wood and caramel leading the way. Behind that were subtle aromas of pepper, plum, leather and grain.
TASTE
Ron:    A sweet and spicy tongue along with caramel and oak. I also got a faint taste of anise, and the fruit that I got on the nose changed to cherries in the taste.
Todd:   A little hot neat, real good with a couple of cubes. Very strong, yet clean flavors of oak, caramel and a chocolate cake type taste. Also had a slight bit of mustiness as well as mint.
Ron:   Even after adding a cube, I liked mine neat unlike Mr. two cubes above.  I also got a bit of the mint after Todd mentioned it.
FINISH
Ron:       Decent medium to long finish with an Oaky essence.
Todd:     Medium to long with a sweetness and a bit more of the mint.
OVERALL
Ron:   I've had this Bourbon frequently but not as of late. This is a great Bourbon! Glad I just got a bottle as a gift from my neighbor. I have Great neighbors!
Todd:    I would stop short of calling it great, but it is very very good. To me this is a grown up version of the regular Buffalo Trace.
Nose      4.25 out of 5
Taste      9 out of 10
Finish     4 out of 5
Total                  17.25 out of 20 Barrels
Well we both liked Eagle Rare and both would buy it again, especially if you can find it for under $30. This Bourbon has the nose and the taste of all the classic traits you expect from a good bottle. Probably best enjoyed neat or on the rocks, not quite spicy enough for a cocktail and a little to pricey to mix anyways.
The price point and availability puts it into competition with Woodford Reserve and Knob Creek. If you are a fan of either of those, give Eagle Rare a try. We think you will like it better.