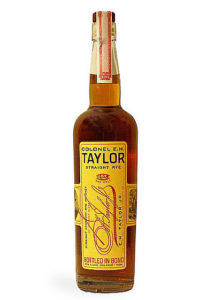 Just about everything the Colonel produces is going to be good, albeit at a somewhat hefty price. Named after Colonel Edmund Hayes Taylor who some consider to be the father of modern Bourbon, but if you read our blog, you know there are more than a few with that title. He did introduce aging Whiskey's in climate controlled rickhouses and was instrumental in getting the Bottled In bond act passed in 1897. The act made clear that any spirit labeled as Bonded or Bottled-in-Bond would be the juice of one distiller, made at one distillery during one distillation season. Also, the Act required that bonded Whiskey be aged in a federally bonded warehouse under U.S. government supervision for at least four years and bottled at 100 proof.

Colonel E H Taylor Straight Rye Whiskey has no corn in the mash bill, consisting of almost all Rye with a little bit of barley. It comes in the same tall, old fashioned corked bottle that all of the Colonel's Whiskey's are in. Also recognizable by the cardboard tube encasing the bottle. Bottled in Bond so it is 100 proof of course, sells for around $80 and is generally available where fine spirits are sold.
NOSE
Ron:   Very nice with aromas of cherries, cedar, leather, and a bit of pepper. Also detected some clove and a sawdust type smell.
Todd:  Nice clean nose of citrus, cedar, toffee and Rye. Later with a cube got aromas of leather and brown sugar. Very good.
TASTE
Ron:   Tasted the pepper, clove, cherries and sawdust that I got on the nose. Side note, a little hot neat. Much better with one cube.
Todd:    Caramel, cedar and a spicy black fruit up front. This is followed by a slight medicinal taste. Agree, needs ice or water.
FINISH
Ron:    Long warm finish with some buttery toffee notes.
Todd:    Medium long with a nice burn and touch of mint.
OVERALL
Ron:   Extremely well balanced, I believe the best Rye on the market, as long as you don't put Angel's Envy Rye in comparison as it is not a "Traditional" Rye Whiskey.
Todd:   Very good Rye, not sure I agree with Ron on it being the best, though I am not sure what Rye I would pick for that distinction. It seems there are a few, that if not better, are very close, and sell for quite a bit less.
Nose     4.5 out of 5
Taste     9.25 out of 10
Finish    4.25 out of 5
Total              18 out of 20 barrels
Seems like the Colonel has delivered again. This Rye is one of if not the best Rye out there. Great nose, taste and finish make for a great drink. We understand if the cost is somewhat prohibitive, maybe ask for a bottle as a birthday or Christmas gift, then milk it for 3 or 4 years. Believe us, we don't drink this every day, but wish we could. Sometimes the bottle will sit undisturbed for months or even longer.
In the end though, we both really enjoyed sitting back and sipping on Colonel E H Taylor Rye, and we are pretty sure you would as well.