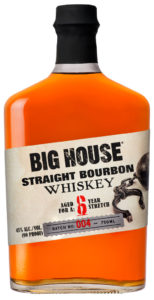 Big House is a relative newcomer to the Bourbon scene, at least in our minds. Neither of us remember this brand being around 3 years ago. The full name, Big House Straight Bourbon Whiskey leaves out the Kentucky part even though it is bottled in Kentucky. It has been our experience that if any of the process takes part in Kentucky you can add that to the name. Maybe we are wrong, couldn't find much clarification on the internet.
Big House is 90 proof, sells for around $22 and is widely available. It comes in a corked, short rectangular bottle.
Big House is obviously a gimmick meant to take advantage of the current Bourbon craze. The name is referring to a prison, and if you didn't get that there is a picture of a ball and chain on the label. Also it states on the label that it's been "aged for a 6 year stretch". Cute, but what about the quality?
NOSE
Todd:   At first caramel, cedar and old leather, I then got slight aromas of fruit, spice and a cigar like smell.
Ron:   Decent nose especially for the price. Caramel , cocoa, spice and oak upfront with a slight nose of honey and a little mint coming behind that. Many of the aromas dissipated after a cube melted.
TASTE
Todd:  A little too hot neat, much better with one cube just about melted. Tasted  the cedar and caramel that I got on the nose but neither was overwhelming. Also detected slight tastes of a toasty grain and some spicy notes.
Ron:  I also picked up the cedar, caramel and spice, along with some vanilla.
FINISH
Todd:  Medium to medium-long with a nice sweetness.
Ron:  Medium-long with a bit of an ethanol burn.
OVERALL
Todd:  Not real complex but for some reason I can't quite explain, I like it.
Ron:  A decent bourbon at a good price, I am going to keep a bottle in my cabinet.
Nose      3.5 out of 5
Taste      7.5 out of 10
Finish      3.5 out of 5
Total Score     14.5 out of 20 Barrels
While not a great score, it was an enjoyable drink and we think that should count for something. It is at a very good price point and at it's price point, you wouldn't mind using it in a cocktail. Having said that it was good just on the rocks.
Is Big House a gimmick? Sure, but it has some quality behind the branding. This is good enough to become a staple in our cabinets.