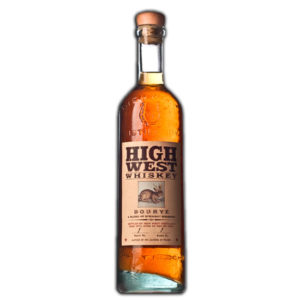 A few weeks ago we reviewed Son of Bourye from High West. This week's review is for the harder to find and much more expensive Bourye. Like the son, the parent is an aged blend of a Rye Whiskey and Bourbon, in both cases the Bourbon comes from Four Roses which is in itself a high Rye Bourbon. So, as we previously stated, with Son of Bourye, you are essentially drinking a Rye.
Bourye comes in the same old fashioned tall glass bottle that is a signature of High West. It is bottled at 92 proof and sells for around $90.00. We are not positive on the overall age. It is a blend of 17 year old Rye Whiskey, 13 year old Rye Whiskey and and a 9 year old Bourbon.
As stated above, Bourye is very hard to find, we understand this is because it is no longer in production but we couldn't confirm that. We still come across a bottle in stores that sell high end spirits.
We were somewhat rough on Son of Bourye, will the father get better treatment?
NOSE
Ron:  Initially I did not get much on the nose but patience paid off and eventually I got many great aromas. Foremost, it had a clean sherry like scent, along with that I detected oak, leather, tobacco and almonds. After a small cube melted, I got a hint of mint.
Todd:  Well, about the only thing we have in common is the fact that the nose took a little effort. I got a pepper-type spice up front, this was followed by slight whiffs of smoke, cherries, cedar and just a touch of cinnamon. Strange, also got an aroma like cotton candy.
TASTE
Ron:  Pretty smooth for 92 proof. I tasted the sherry and leather that I got on the nose along with the pepper spice that Todd got on the nose. Behind that was a sweet citrus taste.
Todd:  Agreed that it is smooth and with the leather, citrus and spice. I tasted the slight smokiness, cedar and cinnamon that I got on the nose.
FINISH
Ron:  Medium-long to long with a warm slightly bitter finish.
Todd:  Long finish with a surprisingly sweet and bitter ending.
OVERALL
Ron:  A great Whiskey but I must say I enjoyed Son of Bourye a bit more, especially when you consider the monetary investment.
Todd:  Really enjoyed drinking Bourye even though it is not overly complex. I liked Son of Bourye if not better than at least the same as Bourye. But the son is almost half the cost.
Nose   4 out of 5
Taste    8.5 out of 10
Finish   4 out of 5
Total score   16.5 Barrels
Well Bourye did score better than Son of Bourye, but then again it is aged longer and is almost twice the investment. To us though, it didn't seem like we were drinking that old of a Rye. Although this is a very good Whiskey, we think there is a lot of juice out there just a good, if not better, at a lower prices. While Son of Bourye did score one point less, in our opinion it is probably the better buy.
Final thought, we recommend buying this only as a collector's item or just out of curiosity, if you don't mind laying down the cash.