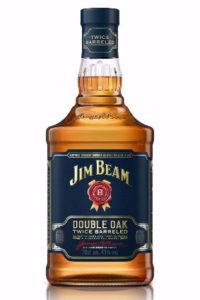 As readers of Talking Bourbon already know, we are keen on some of the juice made by the Jim Beam Distillery, Booker's, Basil Hayden etc. We are decidedly not very keen on their flag ship brand Jim Beam White label. Today we are tasting Jim Beam Double Oak, which is the White label, aged the normal 4 years then put back into new fresh charred oak barrels for additional aging.
JBDO sells for around $22 for the 750ml and is widely available. It is bottled at 86 proof, sports a blue label and comes in a slightly more ornate screw top bottle than it's White label cousin. As for the age, the White label, as mentioned before is aged 4 years or so. All we could find on the bottle and on their web site was that JBDO is aged in the new barrels to taste. We guess that means they have a certain taste profile, and when they get that, the aging is done. could be 2 months or 2 years, your guess is as good as ours.
So, is Jim Beam Double Oak an improvement over the crappy White label, or just a gimmick?
NOSE
Ron:  A somewhat elusive nose, I get certain aromas on one whiff, then they disappear on the next. When I did catch a scent, sweetness dominated. By this I mean Butterscotch, brown sugar, malt(think whoopers) and an aroma that reminded me of a Baby Ruth candy bar. Behind the sweetness I got a little wood and a slight bit of clove.
Todd:  Nothing really jumps out. Got a little corn and some other type of grain, some butterscotch, a bit of plum and a wet wood odor. Also got what I can only describe as a dusty smell.
TASTE
Ron:  Not a lot of flavors and a little hot for just 86 proof. I did get the brown sugar, malt, wood and a hint of that Baby Ruth that I mentioned on the nose. Add to that a little bit of spice.
Todd:  Not bad neat but I have to agree not much going on. The wet wood on the nose turned to a musty taste. I still got the grain along with the wood/oak that Ron picked up. I also found it to be sweet.
FINISH
Ron:   A medium-long finish with a slight bitterness.
Todd:  Medium finish with some hints of white pepper.
OVERALL
Ron:  While I did find it slightly better than Beam's White label, there are a lot of other bottles I would buy at this price before I got to JBDO.
Todd:  The extra time in the barrel does give it a little more complexity than the White label. But as Ron stated, there is a whole lot of juice I would pick off the shelf before this.
Nose    3.25
Taste    7.5
Finish   3.75
Total score    14.5 out of 20 barrels
Well Jim Beam Double Oak was not a gimmick, it did taste better than the regular Jim Beam White. Having said that, it didn't taste that much better. It is also a little too sweet and too low of a proof to make a good Bourbon cocktail. About the only thing this would be good for, because of the sweetness and low proof, is for people jut beginning to drink Bourbon neat or on the rocks.
Bottom line, there is a better stuff at this price point and below.