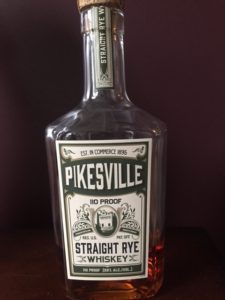 Today Talking Bourbon is tasting Pikesville Rye, we know, it's a tough job but somebody has to do it. Pikesville is made by Heaven Hill and according to their web site was first made in Maryland in the 1890s. The site also states that Maryland had a booming Rye industry until prohibition ended it. News to us.
Pikesville Rye is available in most liquor stores, sells for around $50 for the 750 ml and comes in a nondescript corked bottle. It is aged for 6 years and bottled at 110 proof.
On a side note, if you like Rittenhouse Rye, which we do, Pikesville Rye is the same mash bill aged 2 more years and bottled at a higher proof.
NOSE
Ron:   A sweet and spicy peppery aroma upfront along with some grain and citrus. Also catch lesser scents of Rye and anise, and even less of caramel, cedar and cinnamon. Hope it taste as good as it smells,
Todd:   Sometimes we are just in sync my brother from another mother. I too get the sweet pepper and citrus upfront. I also get the lesser scents of caramel, cedar and even the cinnamon. The only thing I can add is a little bit of leather.
Ron:   Remember readers, we don't talk until we have both wrote everything down.
TASTE
Ron:  Pretty hot neat but to be expected at 110 proof. I get the same sweet, spicy pepper, and citrus that I got on the nose.The grain morphed into Rye. Not a lot of secondary flavors, a little clove and a bitter sweetness that reminds me of dark chocolate.
Todd:   I feel if I am not needed, I also get the sweet, spice and citrus upfront. I also taste the hint of chocolate but not the bitterness. Thankfully I do get a bit of caramel so I can feel like I contributed.
FINISH
Medium long with more of the dark chocolate coming through.
Todd:   Nice medium long finish with a touch of the bitterness than Ron got on the taste.
OVERALL
Ron:  I really enjoyed drinking Pikesville, though I am not sure it is worth being double in price compared to Rittenhouse.
Todd:  Count me in as a fan of Pikesville Rye. While I somewhat agree with Ron on the price issue regarding Rittenhouse, this is good stuff and worth the bump up in cost.
Nose   4.25 out of 5
Taste    8.75 out of 10
Finish    4 out of 5
Total score      17 out of 20 barrels.
Talking bourbon has spoken and we like Pikesville Rye. We understand that the price can be somewhat prohibitive for some. Even if you have to save up, buy a bottle, you will thank us later.
And as we have stated before, you can always just pull out the bottle every other month or so for just a small pour. We both own bottles that we have had for over 5 years.
Now, back to enjoying some Pikesville Rye.