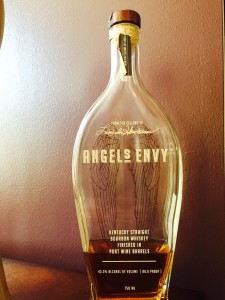 More than 2 years ago, 9-17-2015, Talking Bourbon reviewed a very popular Bourbon, Angel's Envy Kentucky Straight Bourbon Whiskey. It is still very popular so TB decided, for the first time, to review a Bourbon for the second time.
TB will not go into all the usual stuff we cover when introducing a Bourbon, like proof, bottle look etc, you can read that in the original post. The only difference being the price has crept up just a bit. While you can still find a bottle for the $40 that was mentioned in 2015, most of the time it is closer to the $45 to $49 range.
Joining Talking Bourbon for this trip down memory lane is Rod. Rod is traditionally a wine and beer guy, but these last few years has found a nice appreciation of Bourbons.
NOSE
Rod:     Getting a lot of good stuff, starting with caramel, brown sugar and vanilla. After that, but still prevalent, is honey and toffee. I also get a slight smell of sherry and cedar.
TB:         Get a lot more citrus upfront, mainly orange. Behind that is cedar, caramel and a slight varnish type aroma.  Very nice nose.
TASTE
Rod:     Vanilla, cedar and a wet wood type taste all jump out at me.  lesser tastes include  juniper and  medicine. I know that doesn't sound appealing but it all comes together for a nice drink.
TB:    Getting the orange/citrus that was on the nose with some cedar and a crisp taste that cannot be described any other way. A little rough neat.
Rod:     Crisp?
TB:        Juniper and wet wood?
FINISH
Rod:    Medium long, not much else.
TB:     Medium long with some sweetness.
OVERALL
Rod:      The great aroma and above average taste makes this a very drinkable Bourbon.
TB:     Agree that the nose is the strong suit. While not sure it is worth the high price,  the taste is unique enough to warrant having a bottle around.
Nose      4.25 out of 5
Taste      8.25 out of 10
Finish     3.75 out of 5
Total Score         16.25 out of 20 barrels
Well low and behold, it actually dropped a point since last reviewed 2 years ago. Has our taste buds evolved, found other things that are better or may be not as impressed by the bottle anymore. Who knows, what we do know is that Angel's Envy is still a good Bourbon.
It is strong enough to be a good mixer, but has it's own taste that makes it good on the rocks or neat.  The bottle and name still makes for a good presentation and as we stated in the opening paragraph, it is still very popular.
For all the reasons above, you should keep a bottle of Angel's Envy in your cabinet.