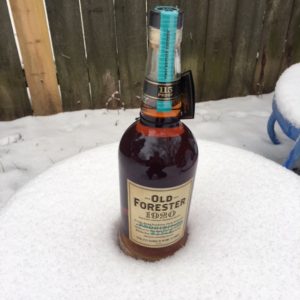 Today we are back tasting with Indianapolis attorney Aaron Pitt. And like the last time Aaron joined Talking Bourbon, he has brought the bottle(TB really likes Aaron).  This time it is Old Forester 1920. This is actually the 2nd time TB has tasted 1920 with Aaron. The first time TB lost the paperwork(might of had too much) and here is Aaron bringing it over again. Yeah, TB really likes Aaron.
Old Forester 1920, also labeled "Prohibition Style", is a Kentucky Straight Bourbon Whisky and the third put out under the Old Forester Whisky Row series. According to the bottle tag, " Only six Kentucky distillers were granted permits to bottle Bourbon for medicinal purposes. Brown-Forman, maker of Old Forester secured permit KY-3. In 1920 the first bottles under this permit were produced". That explains the 1920, TB has no idea what Prohibition Style means.
1920 comes in a somewhat ordinary looking corked bottle, sells for around $60 for the 750 ml and is bottled at 115 proof.  There is no age statement and  can't find one online, this makes TB suspicious. Availability varies but it can be tough to find.
Talking  Bourbon has not been a big fan of  Old Forester, their Birthday Bourbon seems to be a gimmick and is over priced. Their standard 86 proof is uninspiring and somewhat rough for 86 proof. The 100 proof seems to be the best of the lot that TB has tried and it is just okay. Will 1920  change TB's attitude toward all things Old Forester?  Read on!
NOSE
Aaron:     Sounds odd, but I get the scent of bananas, and I remember I got that smell the first time. Also get a yeasty type aroma along with a nutty scent. And maybe an ever so slight whiff of coffee.
TB:        Nice nose, getting leather, vanilla, bread and hazelnuts up front. Also get some type of red fruit,  and even pick up on the bananas that Aaron mentioned.
TASTE
Aaron:    Pretty hot neat, a lot better with a melted cube. I taste the yeast and the nuttiness that I got on the nose but not much else.
TB:     Not as complex as the nose would have you believe. Getting a little ceder, a little cocoa, some bread and a touch of spice. Also got a strange Band-Aid type taste that Aaron thinks is Iodine.
FINISH
Aaron:   Medium to medium-long with a nice sweetness.
TB:     Sweet medium-long finish with a  very very slight hint of cinnamon.
OVERALL
Aaron:   I find it to be a decent Bourbon but nothing exceptional.
TB:       Agree, very good nose but lacking something in the taste department.
Nose          4 out of 5
Taste          7 out of 10
Finish         4 out of 5
Total score       15 out of twenty barrels.
Well Talking Bourbon is still waiting  to be impressed from a Bourbon from Old Forester. It is not that 1920 is bad, it was a pleasure tasting it, but for most people $60 is too much to pay for an everyday bottle. So that puts 1920 in the special occasion category but there is nothing about this Bourbon that screams special.  In fact it seems quite ordinary. The price also makes it prohibitive as a mixer.
Look, if you like Old Forester Bourbon, you will probably like 1920, but take it from TB, there is better juice at that price.