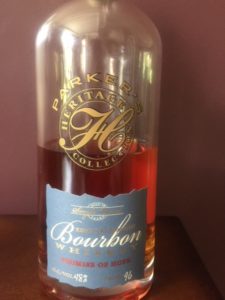 Another day of tasting, another legendary Bourbon. Parker's Heritage is made by Heaven Hill and partners with the ALS Association to help promote and battle that disease. Parker Beam, the Master Distiller who it is named for, was diagnosed with ALS. Every year Heaven Hill comes out with a new, different edition.
We are tasting the 7th edition, issued in 2013, also called Promise of Hope,(kind of sounds like a Star Wars title).  Promise of Hope is aged 10 years, bottled at 96 proof, and comes in an elegant corked bottle. Talking Bourbon bought a 750ml bottle in 2013 for $89, the only place to find it now is the secondary markets for a lot more money.
Since Indianapolis attorney Aaron Pitt was kind enough to share his Old Rip VanWinkle with TB for a review a few months ago, TB is returning the favor, or should it be flavor?
Side note, part of the money collected from the sale of each bottle goes to help fight ALS.
NOSE
Aaron:    Orange and butterscotch  up front followed by a light woodiness and vanilla cake. Get a very slight aroma of pear as well.
TB:       Very nice nose of cedar, grain, citrus and leather. Also get some hints of praline and vanilla. Lastly, a hint of mint.
TASTE
Aaron:    Lots of flavors going on, honey, raisin, toast, yeast and  black pepper. With a little water I get a grassy grainy taste along with some kind of cooked vegetable. That last part sounds bad but is not.
TB:    Oak, pepper, leather and bread come to mind right away. Behind that comes a slight floral taste. Very unique flavor and very smooth even neat. Water does open it up though.
FINISH
Aaron:    Medium short with some spiciness.
TB:         Medium long with some spice as well as the mint that was on the nose.
OVERALL
Aaron:    Great mouthful, very smooth and has a different taste to it. Strictly on taste I would definitely buy a bottle for the $89. Not sure I would pay the secondary mark up price except as a collector.
TB:       This stuff is damn good. Agree with Aaron, would buy again, even at $89, but probably wouldn't spend the $400 or so that the bottle is fetching now.
Nose       4.5 out of 5
Taste       9 out of 10
Finish      3.5 out of 5
Total score       17 out of 20 barrels.
It's a shame that this stuff is so hard to find. The Bourbon justifies the price and you can tell yourself you are buying it just to support a good cause. It comes across as a good drink with a good nose, as well as having a nice balance which Talking Bourbon doesn't often find.
Parker's Heritage, Promise of Hope is a great addition to a good Bourbon collection. The bottle is cool, the story behind it is cool and it is good stuff.
All in all, you have to decide for yourself if buying a bottle on the secondary market is for you.  But if you can find it under a $100 and that is not out of your Bourbon budget, Talking Bourbon would recommend buying a bottle. Or at the very least tell TB where you found it.