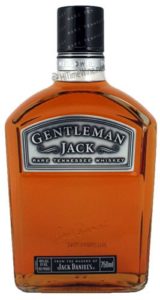 Talking Bourbon is once again tasting an American icon in the whiskey business, Gentleman Jack from Jack Daniels. This is a slightly upgraded version of the wildly popular Jack Daniels Old Number 7 Brand.  TB says slightly because all they have done is run the Old Number 7 through the sugar maple charcoal a 2nd time. Both get filtered before barreling, Gentleman then gets a 2nd pass through the charcoal before bottling.
Gentleman Jack can be found most places that liquor is sold, cost around $26 for the 750ml and is bottled at 80 proof.  Gentleman comes in a slender, more elegant looking bottle than the the regular Jack Daniels.
So will the 2nd pass through the charcoal make Gentleman much different than JB? Hope so because TB wasn't very kind to Jack Daniels back in November of 2015.
NOSE
TB:   Not the most complex nose with a sweetness and the smell of banana taffy being the most prominent. Also get a little bit of wood and apricot. And just like Jack, get a plastic/varnish type aroma.
TASTE
TB:    Definitely smoother than ordinary Jack but not much flavor. Get a little of the sweet banana that was on the nose, a little bit of smoke and some fruitiness. Behind that a very, very  slight taste of caramel.
FINISH
TB:    Short to medium short with not much else, maybe a bit more sweetness.
OVERALL
TB:    Not impressed. At least Jack has some character, Gentleman just taste like watered down whiskey.
Nose       3 out of 5
Taste       7 out of 10
Finish       2.5 out of 5
Total score        12.5 out of 20 barrels.
Well the extra filtering didn't really impress Talking Bourbon. While it was smoother and maybe even more Bourbon like than Jack, there was just not a lot going on. It is not that great straight and is too weak to be a good mixer. Hate to say this but would choose Jack over Gentleman in a cocktail.
The price point is low enough that you could try for yourself, and would not be terrible choice for a first timer. Having said that, Talking Bourbon will not be buying another bottle and would recommend you buying something better as well.