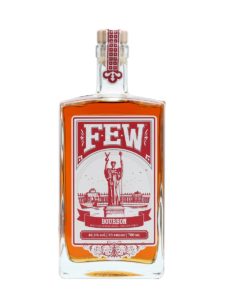 After another long stretch, TB is back with a revue of the Illinois product FEW Bourbon Whiskey.
As stated about a year a year ago when TB reviewed FEW Rye, FEW gets it's name from Frances Elizabeth Willard who was the co-founder of the Women's Christian Temperance Union.
FEW Bourbon is readily available at most liquor stores, bottled at 93 proof, aged less than 4 years, sells for around $50 and comes in a squarish corked bottle with a red label sporting the image of the 1893 World's Colombian Exposition.
FEW also makes gin and TB has long looked down on multi spirit distilleries. TB also has doubts regarding the quality of a Bourbon aged less than 4 years.
NOSE
TB:     Nothing jumps out as a dominant scent. A little caramel, a little rye, a little backing spice and some toffee sweetness.  Also get just a slight slight hint of a scent that reminded me of pine. Can not determine if this is good thing.
TASTE
TB:    Like the nose, nothing really stands out. Get the caramel, spice and sweetness that was on the nose. Also some oak, black fruit and grain. Don't know if it is imagination due to the nose but also get a very slight taste of  pine.
FINISH
TB:    Medium finish with more sweetness and baking spice.
OVERALL
TB:    Like the Rye a year ago, TB was not real impressed with FEW Bourbon Whiskey. Nothing really stands out and it seems for $50 something should.
Nose     3.5 out of 5
Taste      7.5 out 10
Finish     3 out of 5
Total score     14 out of 20 barrels.
This is not a bad Bourbon by any means, just not a good one. It will not make you want to hurry home to have a glass. And while TB acknowledges that the price of Bourbon and Rye have going up to ridicules levels here of late, $50 still seems a lot for a Bourbon that is less than 4 years old.
Maybe try FEW Bourbon Whiskey at a bar where you can just buy a glass and see for yourself if it is something you want in your Bourbon cabinet.