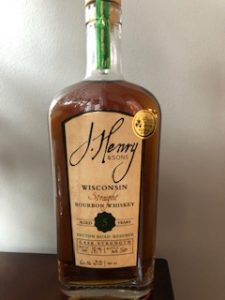 Talking Bourbon had never heard of this particular Bourbon until 3 days ago when a friend stopped by with a bottle of this and another one unheard of by TB. That 2nd Bourbon will be reviewed on the next blog.
The full name of today's tasting is J Henry & Sons, Patton Road Reserve, Wisconsin Straight Bourbon Whiskey, Cask Strength, or JHPRC for short. JHPRC is aged 5 years, comes in a very nice corked bottle, sells for around $70 to $75 for the 750ml and, as the name states, is bottled at cask strength.  This bottle comes from batch # 189 and is 120.32 proof.  Not currently available in Indiana but can be found all over Wisconsin, the Chicago area and online.
JHPRC, according to their web site, is made from heirloom red corn that is grown by Henry Farm Prairie Spirits, the maker of JHPRC .
For the record, TB has never had a Bourbon from Wisconsin, in fact TB has never had anything but beer and cheese from Wisconsin. So not real sure what to expect.
Also today we welcome  back guest taster, neighbor Brett. It has been over a year since Brett last sat in on a review. Brett is a beer guy as well as a lover of Bourbon. His favorite Bourbons are Blanton's and Weller's Special Reserve. Can't fault him on those.
NOSE
Brett:    A very sweet scent, reminiscent of honey and toffee, is the first thing I pick up. Also getting a  slight fruity aroma.
TB:    This does not smell like 120 proof juice. Picking up caramel, maple and vanilla up front with underlying scents of grain and the fruitiness that Brett mentioned. All in all a nice nose.
TASTE
Brett:     I get the caramel, toffee and fruit that was on the nose along with a little corn and vanilla. A very easy drink considering the proof.
TB:      Nothing really jumps out, a little bit of caramel/toffee,  a bit of spice, a little bit of corn and a little bit of a white pepper taste. Also get a slight medicinal taste reminding one of a bandage. Agree with Brett that it goes down easy for such a high proof.
FINISH
Brett:      Medium with more sweetness.
TB:    Medium with a slight hint of a baking spice, maybe clove.
OVERALL
Brett:      A decent Bourbon that goes down smooth.
TB:           The taste and finish are somewhat of a let down after that good nose.
Nose        4 out of 5
Taste        7 out of 10
Finish       3.25 out of 5
Total score   14.25 out of 20 barrels.
Talking Bourbon really wanted to like  Henry & Sons, Patton Road Reserve, Wisconsin Straight Bourbon Whiskey, Cask Strength. That they grow their own corn is a cool story, the bottle is cool looking and TB is always drawn to smaller establishments. And the price is not bad considering you are buying less water at the high proof. However, the taste just did not come through.
Having said that, if an easy drinking and a non complex Bourbon at a high proof is what you are after, JHPRC fits the bill.