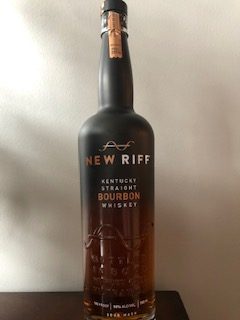 Like the last review, Talking Bourbon has never heard of this particular  Bourbon and it is not sold here in the Indianapolis area. And like the last tasting, TB has local attorney Aaron Pitt to thank for the bottle. As he has done in the past, Aaron is going to be guest tasting as well.
New Riff Kentucky Straight Bourbon Whiskey, by New Riff Distillery, is a sour mash and bottled in bond, long time readers of this blog will know what those terms mean. New Riff comes in an elegant, tall corked bottle that is darker at the top. It is Bottled at 100 proof, sells for around $40 to $45 for 750ml and is aged 4 years. As stated above, it is not available everywhere. The mash bill is 65% corn, 30% Rye and 5% barley. 
As most readers are also aware, TB likes Bourbon to be a little more than 4 years old.
NOSE
Aaron:    Toast and leather are the most prominent, a bit of sweetness and some ethanol after that. This might be because I know the age, and I don't know how else to describe it, but it seems to smell young. Also, after adding ice I lost the nose.
TB: Nothing really jumps out, get some brown sugar, butterscotch, Rye, cinnamon, apricot and tobacco. All of these reside in the background though. Not a bad nose, just no dominating aroma. Like Aaron, TB lost a lot of the scent once some ice had melted in the glass.
TASTE
Aaron: Very hot neat, probably due to its youth. Upfront I get a very strong taste of vanilla cake. Not many secondary flavors, maybe a little caramel and cinnamon.
TB: Agree, pretty hot neat, better with a little water. A toasted nuttiness and Rye at first. Behind this are tastes of leather and baking spices.
FINISH
Aaron: Medium with a little spice and some sweetness.
TB: A nice sweet medium to long finish with hints of cocoa, menthol and more spice.
OVERALL
Aaron: Decent, I feel like it could use a few more years in the barrel.
TB: It's okay, not good but not bad either. Finish is best part.
Nose 3.5 out of 5
Taste 7.25 out of 10
Nose 4.25 out of 5
Total score 15 out of twenty barrels.
New Riff is priced a little high for being just 4 years old, but that is just the world we live in where everything Bourbon related has gotten so high. The bottle is cool, it's young age and 100 proof lets it stand up to mixers and a lot of people will not have heard of it, making for a god conversation starter.
But like Aaron said, New Riff Kentucky Straight Bourbon is just decent. Being just four years old there is just not the depth and complexity that today's Bourbon drinkers expect. If you see it for the price mentioned, Maybe give it a try, but Talking Bourbon will not be planning an out of state trip just to pick up a bottle.