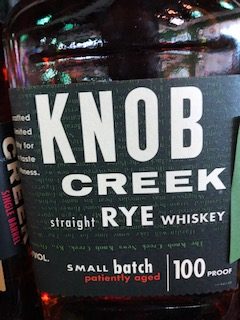 Today's tasting is Knob Creek Rye from the Jim Beam Distillery. Many of us Bourbon drinkers cut their teeth on Knob Creek Bourbon, one of the first premium style Bourbons that was also a big seller.
Knob Creek Rye comes in the same rectangular corked bottle as it's extremely popular cousin, Knob Creek Bourbon. It is bottled at 100 proof, sells for around $38 for the 750ml and is widely available. Talking Bourbon was unable to find a positive age statement which always raises TB's eyebrows. Also could not get a clear listing of the mash bill.
Helping TB today is friend and neighbor Clark. Clark is more of a wine, Rum, tequila and beer guy. But hey, he is always up for a free drink and doesn't dislike Bourbon, just not his first choice.
NOSE
Clark: I actually get quite a few things, butterscotch, caramel, oak and spice are what I pick up first. Behind that is a woody/cedar aroma. Can also smell the 100 proof, somewhat hot.
TB: Wow, are we smelling the same stuff? Only thing that stands out is the Rye. Secondary aromas include honey, citrus, back fruit and a slight nuttiness. Not really getting the the wood that Clark got.
TASTE
Clark: A little hot with an ethanol taste neat. With one somewhat melted cube the drink opens up. I get the butterscotch, caramel and wood that I got on the nose along with some nuttiness mentioned by TB on the nose. Also get a slight hint of cinnamon and vanilla.
TB: Smooth with a nice burn neat but agree with Clark (ouch, that hurts) that it is better with a little water/ice. Even then not getting any over riding taste, just secondary flavors including Rye, tobacco, pepper, hints of leather and a bit of bitterness.
FINISH
Clark: Medium to medium long with not much change in the taste.
TB: Medium to medium long with a little more Rye and a touch of oak.
OVERALL
Clark: At this price point I would stick to Eagle Rare. While certainly nothing to turn down, I prefer Templeton Rye over this. Maybe that is me being a homer since it has some Iowa roots.
TB: You are definitely a homer. But TB also finds Knob Creek Rye to be just okay. Like a lot of juice here lately, one has to really reach to find much flavor.
Nose 3.5 out 5
Taste 7.5 out of 10
Finish 3.5 out of 5
Total score 14.5 out of 20 barrels.
While Knob Creek Rye is not a bad drink, it just lacks something, not sure what. Maybe a little more depth when it comes to the taste and finish. And while not over priced, there is definitely better Rye out at that price range or even under.
Knob Creek Rye does make a decent cocktail, especially like it in an old fashion and is a pretty easy drink. It also has a recognizable name, and that name is very popular.
Final verdict, Talking Bourbon is going to punt on this one. If you like Knob Creek Bourbon, you might like this. If you like a Rye that is not too bold or too forward, you might like this. If you are more of a mixing person you will like this. At this price point, you should find out for yourself.