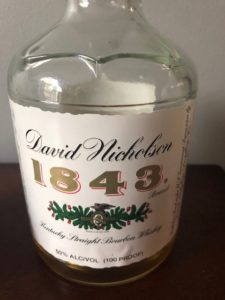 Today's tasting is a wheated Bourbon, 1843, distilled at Heaven Hill under the name David Nicholson. While the brand has been around for a long time it is hard to find outside of the Midwest.
1843 is Bottled in Bond, so it is 100 proof, comes in a non descript corked bottle and sells for around $30 for the 750ml bottle.
Joining me today is frequent guest taster Indpls lawyer Aaron.
NOSE
Aaron: A somewhat "hot" aroma with honey like sweetness and a very slight hint of what I can only describe as cooked vegetables. I say that not necessarily in a bad way.
TB: A very sweet nose that one would expect from a wheater. Getting smells of vanilla, brown sugar, oak and a bit of cinnamon. At first I also picked up a funky sulfur like aroma that might be Aaron's vegetables. After a minute or so I could no longer detect it.
TASTE
Aaron: A little heat followed by white cake and almonds. Also pick up a bit of that honey that was on the nose.
TB: I didn't find it as hot as Aaron did, which is a surprise because he normally drinks a lot higher proof than I do. Upfront I taste a sweet praline like nuttiness along with some toffee. Secondary flavors included caramel, vanilla and wood.
FINISH
Aaron: Medium-short with more sweetness and oak.
TB: Medium with more of the nuttiness.
OVERALL
Aaron: Not a lot of depth but quite good for the price.
TB: Agree with Aaron, very good for the price.
Nose 3.5 out of 5
Taste 7 out of 10
Finish 3.5 out of 5
Total score 14 out of 20 barrels
It's getting harder and harder to find decent juice under $30, so when one is found take advantage of it. While not real complex, 1843 was smooth with some nice heat when drank straight. Water and or ice cooled the heat a little but also opened it up to other flavors, most noticeably the nutty/almond taste.
1843 is a little too sweet to make a good mixer, however it was good with a couple dashes of bitters. It is best to sip neat or on the rocks.
If you live in an area where David Nicholson 1843 is available, Talking Bourbon would recommend getting a bottle or two. Because as long as it is sold in the Indpls area, it will be in my Bourbon cabinet.