For our first post rating a product, this is an unusual  one.  Angel's Envy Rye is not an every day drink. Partly because of price, around $70.00, but also because it has such a unique taste. After it is aged in charred oak barrels it is then finished in old rum barrels. This gives it a very distinctive flavor profile. It will come across as a lot sweeter than most Rye's, it could actually serve as an aperitif.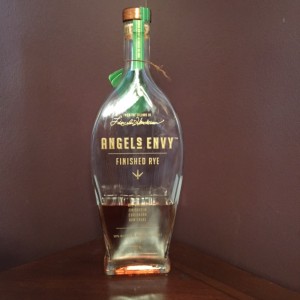 We say this because if you are a big fan of Rye Whiskey, this is going to be very different. In fact, this is probably the most distinct Rye we have ever had.
This is one we only break out for special occasions. We thought the Superbowl deserved it. So while we sipped it during the game, we also decided to put down some tasting notes.
NOSE
Ron:    The aroma brought me back to fond memories of my grandfather who smoked a pipe. Also some vanilla, and spice.
Todd:   I got a nose of wood, brown sugar, maple, leather, and various spices.
TASTE
Ron:   It starts off with hints of Brown Sugar and leather without heat even though its alcohol content is high. I then tasted warm vanilla notes and an unbelievably long finish with a strong essence of pipe tobacco.
Todd:  I get hints of all I got on the nose as well as vanilla and a cognac/rum flavor. I agree with Ron, it goes down smooth despite being 100 proof. I did not get the tobacco flavor until Ron mentioned it, after that I could definitely detect it.
FINISH
Ron:  Long rich finish.
Todd:  It finishes like it starts, sweet and smooth with lingering spices on the tongue.
OVERALL
Ron:   This bourbon was a total surprise for me the first time I tasted it. I was expecting a typical "Rye" Whiskey but my first adjective to describe it was WOW! This is a very "Rich" Rye probably best suited for special occasions.
Todd: I am also a wine drinker, and smelling this stuff, with all of it's complexities, reminded me of wine.  Very good juice.
Nose   5 out of 5.
Taste   9 out of 10.
Finish   5 out of 5.
Total score   19 out of 20 barrels.
The only reason we didn't give it 10 for taste is that it is so distinct from what you expect in a Rye. Also, being so rich and sweet, really only good for one small glass.
Recap, this is great stuff, but might not be for everybody, especially at that price. Try to find a way to taste it before buying. We suggest a bar/restaurant that has a good bourbon selection, they should have this.