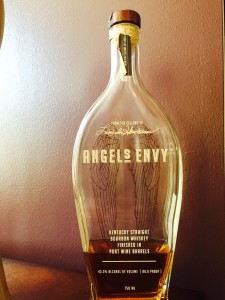 Angels Envy, you can't miss this eye catching Bourbon in it's tall iconic bottle that kind of looks like an old fashioned Coke bottle with angel wings on the back. It is a corked bottle that sells between $40 to $45 for the 750 ML. AE is 86.5 proof and is available at most stores that sell spirits. We could not find an age statement on the bottle or on the web, but since it says Straight Bourbon Whiskey it has to be at least 4 years old.
Angels Envy is unique in that it was one of the first, if not the first, to have some additional aging in non charred barrels.  In this case, used port wine barrels for 3 to 6 months.
The name is a twist on the term angel's share, the amount of bourbon that evaporates during aging, meaning that the angels should be envious of what was left.
NOSE
Ron:   Lots going on with the nose, the usual caramel, along with tobacco and a fruity/plum like aroma. Also got a little bit of clove.
Todd:  A very nice nose that reminded me of fresh rain and citrus, think of standing in an orange groove during a shower. Also got some cedar, vanilla, smoke and just a touch of apple.
Ron: Rain?
TASTE
Ron:   I tasted the plum, caramel, tobacco and clove that I got on the nose. Add to that a little spice and a touch of sherry.  I didn't taste near as much once I added a cube.
Todd:   I found it to be very smooth with a slight musty taste along with some red fruit and sherry. Not real complex, somewhat disappointed after that great nose.
FINISH
Ron:   Nice long finish ending with some floral notes.
Todd:   A long clean finish with some herb and spice.
OVERALL
Ron:   The first time I had this I could not tell if I liked it. The bartender put it over ice in a hot glass right from the dishwasher which watered it down too much. The second time was much better. I believe this bourbon must be consumed neat, even a little bit of water subdues the the majority of the taste considerably.
Todd:  My experience was just the opposite, I really liked it on the first taste. I have drank AE many times since, but it has been quite a while since I last had some.  Overall I was somewhat disappointed as the taste lacked complexity. I didn't mind it with ice. Almost worth buying for the nose.
Nose      4.75 out of 5
Taste       8 out of 10
Finish     4.5 out of 5
Total           17.25 Barrels out of 20
While we disagreed a little on the taste, this is still a very good, very smooth Bourbon with a nice finish and a great aroma. A little on the high end regarding price so should be drank neat or on the rocks. The bottle makes for a cool presentation.
Final verdict, you should have a bottle of Angels Envy in you cabinet, we do.