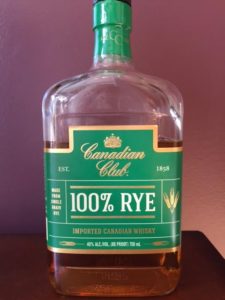 As you have read in our previous Canadian Whisky reviews,  you know we are not huge fans of Canadian juice. They are not terrible, but the ones we have tried lacked complexity and character with the one exception being Crown Royal Northern Rye. So maybe our neighbors to the North have figured out how to make a decent Rye, we will see.
Canadian Club 100% Rye comes with a synthetic cork in a short rectangular bottle, which is very different from the original CC bottle and sports a green label. It is bottled at a Whisky standard minimum of 80 proof (like almost all Canadian juice), sells for around $18 for the 750 ml bottle and seems to be widely available. There is no age statement on the bottle and we couldn't get clarification of its age researching the Internet. It seems to be around 2 years old.
One thing our research did uncover is that the regular CC is made of corn, Rye, and barley. While this in itself is not news, how it all comes together is enlightening. All three ingredients are distilled and aged separately then are blended just prior to bottling. Traditionally the mash bill of Rye and all Bourbon is distilled together, then aged in oak until matured, and finally bottled. So this is just the same Rye ingredient of the traditional CC before it is blended and bottled. This process seems to resemble an assembly line rather than a traditional Whiskey producer.
NOSE
Todd:  Like almost all Rye that has not been aged very long, I get a nose of bad Irish Whisky and varnish. I also get some faint hints of toast, malt and a oily-smoky odor. Strange, being 100% Rye it didn't really smell like a Rye.
Ron:   First thought, it's Canadian! I get the varnish and slight bit of malt that Todd picked up. Nothing really jumps out though, just secondary aromas of wet wood, ethanol and a hint of Rye. I also get an ever so slight scent of brown sugar.
TASTE
Todd:  I get the same varnish and bad Irish Whisky upfront that I got on the nose. Also like the nose, this doesn't taste like a Rye. Secondary taste included malt, oil and a touch of floral. Somewhat hot for 80 proof but fairly smooth.
Ron:   Agree, hot for 80 proof. I get the varnish, malt and ethanol that I got on the nose. Add to that, some spice and bitterness.
FINISH
Todd:   Medium with more varnish.
Ron:    Medium-short with more bitterness and ethanol.
OVERALL
Todd:  I did not really enjoy this Whisky, it actually took me a while to get the taste out of my mouth.
Ron:   Simply not impressed one bit. I don't need a bottle taking up valuable real estate in my cabinet.
Nose      2.5 out of 5
Taste      6.5 out of 10
Finish     2.5 out of 5
Total score      11.5 out of 20 Barrels
We know the bottle only sells for around $18 but we both like the original CC better. You can often find the original in the 1.75 ml jug for under $20. This tastes more like varnish or paint than a Rye. We both had to wash out our glasses and mouths before we enjoyed a real Rye on our second pour (you will have to read our next blog to find out what it was).
Our recommendation to you, avoid! Our recommendation to CC, use Canadian Club 100% Rye for its original purpose, as an ingredient in the original Canadian Club.