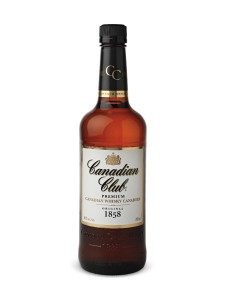 Canadian Club, or as their fans call it CC, has been a staple in American and Canadian homes for Decades. At one point, mid 20th century, it was one of the most popular hard liquors in the the United States. Evidence can be found in popular culture like Mad Men, a T.V. show set in the sixties. Don Draper, the star of Mad Men, seemed to always have a glass of CC in his hand.
The name originates from the fact it was first sold only in clubs, and was thus called Club Whisky. That is not a typo, CC uses the Scottish spelling of Whisky which drops the e. Then some time in the late 19th century the word Canadian was added.
The standard Canadian Club, which we are reviewing here, is bottled at 80 proof in a plain looking dark brown bottle with a screw top. It can be found everywhere spirits are sold and is under $15, sometimes even under $12.   It is aged for 6 years.
CC is a Canadian Whisky, which is a class onto itself. They follow most of the same rules that Bourbon follows but not all of them. The main difference being Canadian Whisky does not have to be aged in new charred oak barrels like American Bourbon. They have to be aged at least 3 years, but that can be in used barrels. Canadian Whiskies usually have a little more Rye in the mash bill as well and almost always are a blend.
NOSE
Todd:   Very different than what I expected. Got a strong sweet smell of a candy that I couldn't identify. This along with some orange, pear, and a slight scent of varnish. Nothing like a Bourbon nose.
Ron:    Nothing big as far as aromas. A little Rye, some citrus, some kind of grain and a little bit of a spicy scent. Not bad for the price. I also got a bit of furniture polish which is probably Todd's varnish.
TASTE
Todd:     Very smooth even neat, almost no burn at all. Only needed one cube. Unfortunately not a whole lot of flavor either. Tasted a little citrus and spicy Rye along with a lot of sweetness. Picked up a slight taste of the varnish that I had got on the nose.
Ron:     Holy crap, Mr. 2 or 3 ice cubes Todd only used one! Miracles never cease.  A little bit of grain, citrus and spice. Not a bad drink, but I'm just not getting much.
FINISH
Todd:    Medium is being generous, got a slight bit of black licorice.
Ron:     Medium to short, not much to add regarding any new taste.
OVERALL
Todd:  I didn't dislike CC, it's like most Canadian stuff I try. Very smooth but not a lot of flavor. Also not really my taste profile. I didn't get any caramel, vanilla, leather or wood that I get from Bourbon.
Ron:    Not a terrible drink, but for the price give me JTS Brown, Rebel Yell or even Heaven Hill. When I was a kid my mom's "stepping out" drink was CC and 7-up. She was really kicking it when she ordered this drink at a party.
Nose    4 out of 5
Taste    7 out of 10
Finish   3.5 out of 5
Total            14.5 out of 20 barrels
Canadian Club Whisky is not a bad drink and makes for a decent cocktail, albeit a little on the sweet side. At that price point you won't mind using it as a mixer. We have actually seen this on sale for $19.99 for a 1.75 ML. That puts it under $10 for 750 ML, there is just not much juice at that price point worth drinking. CC would also make a decent beginner or lead in to American Bourbon.
The only good glass we have had from Canada at a reasonable price was Crown Royal Rye which we reviewed last November. The rest all seem to lack depth in the taste department. Having said that, we would buy a bottle of CC over the standard bottle of Crown Royal. The taste profiles are very close but CC is about half the price.
Bottom line, if you like your drink to be a little sweeter and smoother, or if you are on a budget, give it a try.