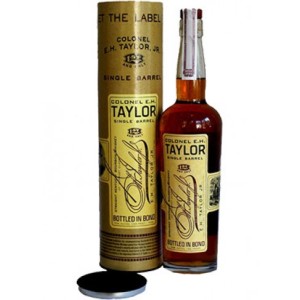 As anyone who knows us or reads this blog, there are certain brands that we just really enjoy, think Weller's or Michter's. Add to that Colonel Taylor. We couldn't remember anything we didn't like that came from the Colonel. Hopefully that holds true for today's tasting which is Colonel E. H. Taylor's Single Barrel, Bottled in Bond, Kentucky Straight Bourbon Whiskey.
CTSB is, since it is bottled in Bond, 100 proof, goes for around $60 and is found at liquor stores that have a good Bourbon selection. It comes in the same vintage looking corked tall bottle as all of Colonel Taylor's Whiskey, and as all of them, it it also encased in a cool looking cardboard tube. Presented in your Bourbon cabinet either in the case or naked with just the bottle, it definitely stands out
NOSE
Todd:   Strong caramel up front followed by cherries, vanilla, toffee, and cocoa. Also picked an oaky aroma. Very nice.
Ron:   Great nose, full of scents including the caramel, cherries and vanilla that Todd got. I got some leather, praline and spice as well.
TASTE
Todd:   The caramel that was on the nose was the most pronounced taste, followed by citrus, a little leather, and a nice sweetness. Very smooth neat but needs a cube or a little water to tame the heat 100 proof Bourbon's typically have.
Ron:  The taste just duplicated the nose, caramel, cherries, toffee, leather, praline, spice and vanilla. Just a bit too hot neat, one cube makes it.
FINISH
Todd:   Medium long and sweet. Occasionally would get a slight buttery taste on the finish.
Ron:    Long finish with just a hint of cinnamon.
OVERALL
Todd:   Very tasty, I really, really enjoyed sipping CTSB.
Ron:   Fantastic bourbon! Well worth the $60 price tag. Glad I have a bottle in the cabinet for friends who appreciate good Bourbon. My son is turning the big 21 soon and I have been trying to figure out which bottle to get him for his Birthday. Colonel Taylor Single Barrel is the one. My thought would be that He could have a taste every year. If so it could last over 20 years. Too bad Bourbon doesn't age in the bottle. But, my son being a Millennial, who knows how long it will last.
Nose    4.5 out of 5
Taste    9.5 out of 10
Finish   4.5 out of 5
Total          18.5 out of 20 Barrels.
Looks like Colonel E. H. Taylor has come through again. We would definitely recommend this great Bourbon, although we would not waste it in a cocktail. The cost is a little steep, but to have around to break out for a taste every other month or so is worth every penny.