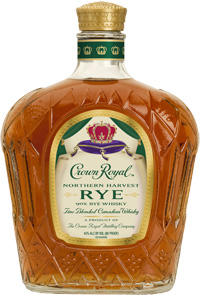 Crown Royal Rye, a new product from "The Legendary Import" that brings us Crown Royal. CRR comes in the same easily recognizable bottle as the rest of the Crown line. It sells for around $25 and is bottled at 90 proof. We could not find an age statement on the bottle or online. It is available everywhere.
We have stated numerous times that we are not big fans of Canadian Blended Whiskeys. They all are pretty smooth but don't have a lot of flavor or depth.  Will CRR be the same?
Also today we have for the first time a repeat guest taster. Kelsey joins us again.
NOSE
Kelsey:   I detected caramel on the nose, but I always detect a caramel aroma from Bourbon/Rye. I also got some oak, a little raisin, and a slight medicinal smell.
Todd:  I got a big nice nose of pear. Once I got the pear it was hard to get it out of my mind. With some time and effort I started to detect some citrus, spice and brown sugar.
Ron:   I got aromas of apricot, vanilla and spice. I picked up on the raisin that Kelsey got. Also got a scent that reminded me of circus peanuts, you know that orange soft candy that I am not sure they sell anymore.  Brought back some good memories of childhood.
Todd:    Hopefully you are talking about the circus peanuts and not the Booze. Strange, once Ron told me about the circus peanuts I also got that. Power of suggestion?
Kelsey:  Didn't work on me.
TASTE
Kelsey:  I tasted the apricot that Ron got on the nose. Along with cedar and a sweet yeasty flavor.
Ron:   I tasted the raisin and spice that I got on the nose. I also got caramel, yeast, and a little pepper.
Todd:  I got a clean taste with a lot of pear up front. I also tasted a little bread and some spice. Not overly hot for 90 proof.
FINISH
Kelsey:  Medium finish with much of the same flavors I got up front.
Ron:    Medium finish with some sweet/spiciness.
Todd:   A sweet medium finish.
OVERALL
Kelsey:   Very smooth and tasty.
Ron:  Very smooth but not extremely complex. Can be enjoyed on all occasions, but to me seems better fitted to sip on in cold weather.
Todd:   I agree, very smooth, not overly complex. Having said that, I really liked this stuff.
Nose     4 out of 5
Taste     8.5 out of 10
Finish    3.5 out of 5
Total            16 out of 20 Barrels
The score doesn't reflect how much we all enjoyed sipping on Crown Royal Rye. In our minds, it is a lot better than their flagship, Crown Royal Blended Whiskey. Yes it does not have a lot of depth, but that should not stop you from trying it.
At $25 it  is at a good price point, comes in a cool bottle, good either straight or on the rocks, and makes a decent Old Fashioned.
This would also make a good introduction for novices or your friends who don't think they like a Bourbon/Rye.