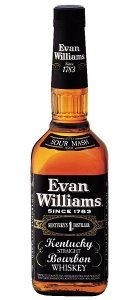 Up for review today is the standard Evan Williams or Evan Williams Black label. This is their flagship line not to be confused with the 100 proof White label or the Single Barrel.
EW Black comes in an uncorked bottle that will remind one immediately of Jack Daniels. It is bottled at 86 proof, is at least 4 years old and sells for around $12-14 for the 750ML. It can be found just about everywhere. Speaking of Jack, Evan Williams states on the bottle that it is charcoal filtered, we always thought this meant it was a Tennessee Whiskey as opposed to a Bourbon. But the bottle clearly says "Kentucky Straight Bourbon Whiskey".
NOSE
Ron:  Corn, caramel and spice prevail as first aromas. Just behind that I picked up cedar and a slight whiff of clover.
Todd: Smooth pleasant scent that seemed to belong to a more expensive Bourbon. Dried corn and wood came first. This was followed by hints of caramel, honey, tobacco and almonds.
TASTE
Ron:  Continued to get the spice that I got on the nose along with some oak. Secondary flavors included cinnamon, a medicinal taste and just a slight bit of bitterness.
Todd:  Very smooth and sweet neat though not real complex. Nothing really stands out, just a lot of secondary flavors. I tasted the corn and the wood that I got on the nose along with some white pepper and bread.
FINISH
Ron:  A medium finish with some warmth and a little more bitterness.
Todd:   Not much to add, medium with a slight bitterness.
OVERALL
Ron:  Not bad for the price. However if there is a bottle of JTS Brown nearby, grab the Brown instead.
Todd: I felt that I had to reach on some of the flavors, that said it was not unpleasant to sip on. It has a nice nose and a good price point.
Nose     3.75 out of 5
Taste      7 out of 10
Finish     3.25 out of 5
Total score        14 out of 20 Barrels
As always we take price into consideration on rating Bourbon. Evan Williams Black label is a good drink when you consider it is typically found under $14 for the 750ml and in the high teens for the 1.75 bottle. While a lot of people use it as a mixer, it was a little too sweet with not enough enough kick for us. Having said that it wasn't bad with a few drops of bitters mixed in.
Our final thought is that you need to have some lower end juice around the house for 2nd or 3rd pours, people who like a mixed drink and for those who are not really into Bourbon but want a glass to look the part.
Other Bourbon's that we have found at this price point that we also like are Heaven Hill Old Style, which allegedly is not currently produced, and the aforementioned JTS Brown which is also  not usually on the shelf. So it is getting harder to find which could mean Evan William's Black just might make it into your cabinet by default.