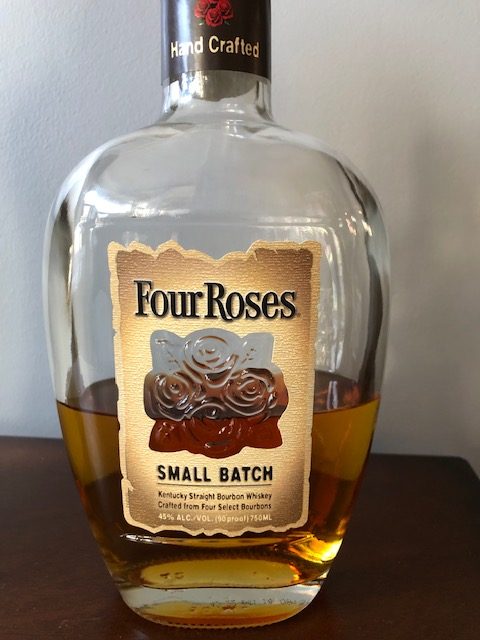 This edition of the Talking Bourbon blog reviews Four Roses Small Batch, Kentucky Straight Bourbon Whiskey. Not to get too complicated but Four Roses has ten unique Bourbon recipes. Of these ten, they use four to make Small Batch. It can very a little between bottles but most seem to have similar taste profiles.
As far as the name, Small Batch, I have mentioned in past articles that there seems to be no set definition of what that term means. Small batches can be as little as a few barrels to as big as a thousand barrels. With a little digging I found that Fours Roses Small Batch uses around 250 barrels per batch.
Four Roses Small Batch comes in a nice looking corked bottle and sells for around $30 for the 750ml. It is bottled at 90 proof and is widely available. While no age statement was available on the bottle or on their web site, with some more digging I was able to pin the average age of the barrels to six to seven years.
There is a special guest taster today, special at least to me. It is my wife Tammie. While Tamm is not a huge Bourbon lover, preferring wine, she does have a good nose for aromas and good taste buds. While I have written this blog now for close to three years, this is the first time she has sat in for a tasting.
NOSE
Tamm: I smell strong aromas of cedar, brown sugar and orange citrus. A little less strong is honey and a scent reminiscent of damp leaves.
TB: Damp leaves? Not getting it. I am getting the brown sugar, honey and citrus. Also a little vanilla and oak. And behind all this is a very slight whiff of cocoa and banana.
Tamm: I get the cocoa after you mentioned it, maybe power of suggestion.
TASTE
Tamm: I taste the honey, citrus and cedar that I got on the nose. Along with those I get a taste that reminds me a little of varnish, but not necessarily in a bad way.
TB: Spicy sweetness along with oak, Rye and a slight nutty flavor. I do pick up a little of the citrus that Tamm mentioned.
FINISH
Tamm: Long with more sweetness and a good burn when drank neat.
TB: Medium long to long with some added woodiness.
OVERALL
Tamm: Smooth with some ice but not overly complex. I did like the long finish but probably not something that I would just pour a glass of.
TB: I find it a bit more complex than Tamm. This is a good drink with a good nose. I enjoyed it.
Nose 4.25 out of 5
Taste 7.75 out of 10
Finish 4 out of 5
Total score 16 out of 20 barrels.
You can count Talking Bourbon as a fan of Four Roses Small Batch. A good nose, a decent finish and a sweet and spicy taste all add up to a good Bourbon at a great price. In fact, I find Small batch a better buy than the Four Roses Single Barrel. Don't get me wrong, I like the Single Barrel, for that matter I like the Yellow Label, this just seems more approachable and more well rounded than either of the other two.
I always have a bottle around of the Yellow Label, the Small Batch and the Single Barrel. And while they are all good I have a special place in my heart for the Small Batch.
It is good neat, on the rocks and makes a great mixer of fine Bourbon cocktails. The latter is what I use it for the most. If you haven't tried it, I would recommend you buy a bottle of Four Roses Small Batch Bourbon.