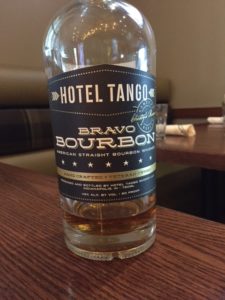 As veteran's Day approaches we here at Talking Bourbon decided to review Hotel Tango's Bravo Bourbon. According to their web page  it's the first service-disabled combat-veteran owned distillery in the country. Hotel Tango is located here in Indianapolis and we are not sure about availability outside of Indy.
Bravo Bourbon, American Straight Bourbon Whiskey is 7 years old, 90 proof, sells for around $50 for the 750ml and comes in a nice looking corked bottle.
Helping today is Aaron Pitt, a lawyer here in the Indpls area and long time friend of Talking Bourbon. Aaron has long been a Bourbon Lover. Both Aaron and TB are somewhat skeptical of this Bourbon, Hotel Tango makes a variety of spirits, so we are concerned as to how much love and devotion they give to their Bourbon.
Fun fact,  according to their web page, each Hotel Tango spirit derives its prefix from the NATO phonetic alphabet as such, i.e. Victor Vodka, Golf Gin, Mike Moonshine, etc.
NOSE
Aaron:    I don't get the usual Bourbon aromas from from Bravo. Instead I get a pleasant nose of light citrus along with a strong alcohol smell.
TB:    Also get the citrus, alcohol, and the lightness. Add to that a definite apple aroma.
TASTE
Aaron:    Fruity and fairly smooth neat. Not overly complex but I like it. A little better with some melted ice.
TB:    Oak and maple syrup come to mind first. Secondary tastes include black fruit and a little bitterness.
FINISH
Aaron:   Medium to medium-long  with a little sweetness.
TB:      Medium-long with some nice heat on the back of the tongue.
OVERALL
Aaron:    I am pleasantly surprised and will buy a bottle.
TB:      Really liked this stuff and agree, need a bottle.
Nose          3.5 out of 5
Taste          7.5 out of 10
Finish         3.5 out of 5
Total score        14.5 out of 20 Barrels
Sometimes there needs to be an additional category for an easy drinking, enjoyable Bourbon, because that describes Bravo. Not overly complex and not a lot of superlatives to describe it except that it is good. There is just something about this Bourbon that makes you like it. The price is a bit high for the quality, but it is unique and has a great back story.
Recommendation,  support a veteran and go out and buy a bottle of Hotel Tango Bravo Bourbon. Then  sit back, relax and enjoy a sip.