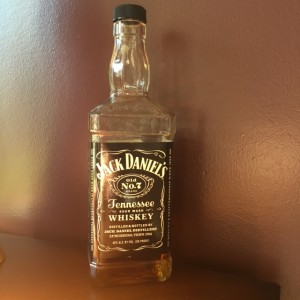 Up for review today, Jack Daniels Old No 7 Brand Tennessee Sour Mash Whiskey (whew), Known here as Jack Black. While technically not a Bourbon, it follows most of the Bourbon rules but then is filtered through maple charcoal. Almost everyone who has drank has tried Jack, and if they haven't tried it, they would still probably recognize the bottle and brand.
Jack black is the number one selling American whiskey in the world. Comes in the familiar non-corked bottle at 80 proof. It was 90 proof when we were younger. Sells for around $27 and can be found anywhere that spirits are sold.
NOSE
Ron:  I got aromas of caramel and banana bread. Not much else.
Todd:  I also got banana but seemed more like taffy.  Also picked up some odors that reminded me of a humidor and an odd cooked-vegetable smell. I detected a faint, funky, soapy like smell that my wife identified as varnish. Not a fan.
TASTE
Ron:   Tasted the banana and caramel that I got on the nose, even though it was a different banana aroma. I also got  a taste of medicine and a little taste of ethanol.
Todd:    Easily could drink this neat, got the banana and sweetness that I got on the nose. Tasted a little smoke and a little ceder and some kind of baking spice.
FINISH
Ron:    Medium finish with a little bit of pepper and mustiness.
Todd:   Medium finish, not much change, maybe a slight musty taste.
OVERALL
Ron:   Just okay at best, little pricey for something that isn't that complex.
Todd:   Jack taste better than it smells, having said that it still did not overwhelm me. I agree, not very complex for the price.
Nose    3 out of 5
Taste    7 out of 10
Finish    3 out of 5
Total          13 out of 20 Barrels
We were a little underwhelmed by this giant of the industry. Much like we were not very impressed a while back with another giant, Jim Beam White Label. At least with Jim you are not paying as much so you don't feel bad mixing it with cola. Being the number one American Whiskey sold in the world, Jack is the epitome of great marketing!
Since Jack is so popular, our final verdict unfortunately, is you should probably have  a bottle of it in your cabinet. Just in case a guest requests some Jack Black.