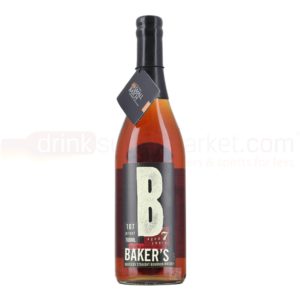 Today we are reviewing Baker's Kentucky Straight Bourbon Whiskey. This is another offering from Jim Beam's Small Batch Collection. This is a special edition blog post from Talking Bourbon. We were invited to talk at the monthly meeting of the Bourbon Society of Indianapolis, by their president Kyle LeClere. After a brief speech about us and our new book, we lead them in a tasting of Baker's. Everyone was provided with one our tasting sheets to fill out and return to us. So many were returned we decided to combined their results to a single voice called BSOI or "the group".
Baker's sells for around $55 for the 750 ml bottle, comes in a fairly nondescript corked bottle and can sometimes be a little difficult to find. It is aged 7 years and bottled at 107 proof. The Jim Beam website states that it is barreled and aged in small batches which are then stored in the center racks of the rick house, not near the bottom or top, for aging.
Like everything that comes from Beam, we are always skeptical that we are just getting a higher proof, longer aged, more expensive version of the highly popular, but very unpopular here at TB, Jim Beam White label. There are exceptions though, we both like Booker's and to a lesser degree Basil Hayden's.
NOSE
Todd:   A sweet scent of caramel is the most prevalent. Behind this are aromas of grain, citrus and spice. Not bad but expect a little more considering the price.
Ron:   I get clean spicy vanilla upfront. This is followed by smells of toast, wood and Rye. Finally a very slight nose of almonds.
BSOI:   Corn, spice and grain seems to be the most popular response from the group.  Second is fruit, wood, and caramel.
TASTE
Todd:   I taste the caramel, citrus and grain that I got on the nose along with some oak. I get some background taste of black fruit and leather.
Ron:  Lots of great flavors, including strong tastes of wood/oak, spice and sweetness. I also get a slight hint of leather and even slighter hint of clove.
BSOI:   The majority get a nutty spicy taste along with caramel. Secondary flavors included tobacco, pepper, leather, and Rye.
FINISH
Todd:  Medium long with a nice sweetness and maybe a bit more citrus.
Ron:   Medium long to long with a warming caramel.
BSOI:   A dry medium long finish with some saying bitter and others saying sweet. Caramel and oak also get some mention.
OVERALL
Todd:   I liked Baker's but I probably wouldn't pay $55 for a bottle.
Ron:    Some good things going on but have to agree with Todd.
BSOI:   Good stuff but about $25 too high.
Nose      4 out of 5
Taste      8 out of 10
Finish     3.75 out of 5
Total score     15.75 out of 20 Barrels
Baker's did convince us that it is not just an older, higher proof version of Beam White label. In fact it doesn't even taste like the same mash bill, which is a good thing.
Baker's is actually a good Bourbon, but as our readers know, we do take price in consideration. At this price point or under, there are just too many things we would recommend over Baker's.  Having said that, if you do buy a bottle and pour yourself a glass, we are confident you will enjoy it and there are a lot worse things than that.
Thanks again to the Bourbon Society of Indianapolis for inviting us to talk and in helping taste Baker's Kentucky Straight Bourbon Whiskey.