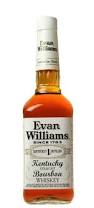 A few weeks back we reviewed EW Black label, the mega seller from Heaven Hill, and gave it a somewhat mediocre rating. We got an email from a reader suggesting we try the White label, saying it was considerately better.  We were skeptical seeing how the White label is only the Black at 100 proof instead of 86.
Evan Williams White Label, also called EW Bottled in Bond, meaning among other things it is bottled at the aforementioned 100 proof. EW White comes in the same shaped, screw top bottle as the Black label. It sells for around $15 or so for the 750ml which is a couple of bucks higher than the Black label. It is at least 4 years old and while widely available, not quite as easy to find as the Black label.
NOSE
Ron:   I do not pick up a lot of heat in this mild mellow nose. I do pick up decent aromas of apricot and wood. Lingering behind is scents of leather, caramel and yellow cake batter.
Todd:   Agree, doesn't smell like it's 100 proof. I Also get the caramel but more upfront along with cedar. I pick up secondary aromas of chocolate, leather, praline and a slight mustiness. No apricot or cake batter here.
TASTE
Ron:  Very smooth neat but nothing jumping out. As my ice melts I start to get a spiciness followed by cherries, bread and a slight musty/ethanol flavor
Todd:   Yes, very smooth neat but needs water to bring out some flavors. Even then there is no dominant taste, just a lot of secondary ones. In descending order I get grain, cedar, white pepper, caramel, leather and almonds.
FINISH
Ron:  A medium finish with some warm toffee and yeasty bread.
Todd:   Medium to medium long with a taste I just can't nail down. I do pick up the yeasty finish that Ron mentions.
OVERALL
Ron:    A good Bourbon for the price and I do like it better than the Black label.
Todd:    A very pleasant drink at a very good price. Not as sweet as I remember the Black label. Will definitely buy again.
Nose     4 out of 5
Taste     7.5 out of 10
Finish    4 out of 5
Total score     15.5 out of 20 barrels
Well we both liked the White label considerately more than the Black label. For just a few dollars more you get a better drink and a higher proof. The higher proof makes it an even better deal, seeing as how you get more for your money. The higher proof also makes for a better cocktail.
Bottom line, most of can't drink super premiums with every pour. Evan Williams Bottled in Bond White label is a great second glass.