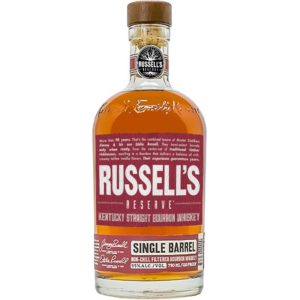 We here at Talking Bourbon are generally fans of juice from Wild Turkey, including the standard Russel's Reserve which we reviewed a few months back. Russell's Reserve Single Barrel is the same Whiskey that is in Russell's Reserve which is also the same as Wild Turkey 101. RR is just aged for 10 years compared to the 6 or so for the 101, and the RR Single Barrel is just that, bottled from a single barrel without any blending. We have mentioned before that they blend Bourbons to get a certain taste profile, to assure some measure of consistency. While they still look for a certain taste profile in the single barrels, there will be some differences between bottles from different barrels.
Russell's Reserve Single Barrel is bottled at 110 proof in the same somewhat short bottle that all the Russell's lines are sold in. It sells for around $50 to $55 and can be a little hard to find.
One note on finding or buying it. They have changed the label. The bottle is the same size and same color label as the regular Russell's Reserve, so it is easy to over look the words Single Barrel in the bottom part of the label.
NOSE
Todd:   A really nice nose of all the traditional aromas I look for in a Bourbon. Oak, caramel, brown sugar and leather were the prominent scents. A little less forward was vanilla, spice, toffee and honey. Interestingly, I lost most of the aromas when my ice melted.
Ron:   Somewhat of a hot smell with caramel and spice upfront followed by oak, almonds and a hint of mint and brown sugar. I actually picked up a bread aroma once my ice had melted.
TASTE
Todd:   Hot neat but expected that at 110 proof. The spicy Rye and caramel really come through. Also got tastes of oak, and tobacco.
Ron:  Yeah, I agree, little too hot neat. Once the ice had melted a bit I picked up some spiciness as well as grain and caramel. Also came away with something I can only describe as a clean taste.
FINISH
Todd:  Medium long to long with sweet brown sugar and a bit of mint.
Ron:  Medium long with a nice warm caramel finish. Also picked up that slight bit of mint.
OVERALL
Todd:  Very nice Bourbon but probably a little over priced.
Ron:  Really good but falls a bit short relative to it's price point.
Nose     4.5 out of 5
Taste     8.25 out of 10
Finish    4.25 out of 5
Total score     17 out of 20 Barrels
While we both enjoyed RRSB, we didn't find it that much different or better than the standard Russell's Reserve. The juice in the bottle was aged for 10 years in both cases, $20 seems a little high just to make sure your particular juice came out of only one barrel.
Still, if you feel like splurging, there are some worse things to spend your money on than Russell's Reserve Single Barrel.