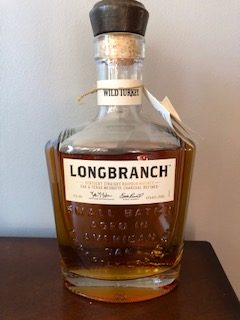 Today's tasting is yet another offering from Wild Turkey, Longbranch Kentucky Straight Bourbon Whiskey. Talking Bourbon remembers when you could just buy the fine Wild Turkey 101 and the not so fine 81. Longbranch is described on the Wild Turkey web site as:
"Made in small batches and refined with oak and Texas Mesquite charcoals, this unique process results in an extraordinarily balanced and smooth sipping whiskey."
Longbranch is a partnership between legendary Master Distiller Eddie Russell and Mathew McConaughey, yeah the actor. Guess he is a Bourbon dude, who knew? Supposedly it was "inspired" by the actor's Texas roots, hence the mesquite.
Longbranch comes in a nice looking squat corked bottle, aged 8 years and bottled at 83 proof. Longbranch, like most things from Wild Turkey, is mass produced and available pretty much wherever spirits are sold. TB found this bottle at Costco. It sells for around $35 for 750ml and has a mash bill of 75% corn, 13% rye and 12% barley.
Assisting in the review today is Maria. Maria is more of a wine and margarita girl but also likes gin and tonics and occasionally a sip of good Bourbon.
NOSE
Maria: Strong aromas of butterscotch is the first thing that jumps out at me. After that I pick up scents of smoke, vanilla and spice.
TB: Nothing really stands out, some Rye, corn, caramel, vanilla and a bit of the smoke that Maria got. Also get a faint taste of wood and once ice was added, some citrus.
TASTE
Maria: Very sweet up front along with cedar. Lesser scents include the butterscotch, smoke and vanilla that I got on the nose. Also, very smooth neat, I usually don't like to drink any hard liquor that way but this was fine.
TB: Also find this to be very sweet and also taste the smoke and wood that Maria talked about, almost like a campfire. Secondary flavors include pepper, grain and the caramel that I got on the nose. Even further back, a little bit of mustiness.
FINISH
Maria: Medium with more sweetness and wood.
TB: Medium-long with the same sweetness and wood and a little spice.
OVERALL
Maria: I'm no expert and it lacked the nuttiness that I like in Bourbons, but enjoyed drinking a glass.
TB: A little on the sweet side and not a ton of depth but have to agree with Maria, I enjoyed my glass.
Nose 3.5 out of 5
Taste 8 out of 10
Finish 3.5 out of 5
Total score 15 out of 20 barrels.
Not a bad Bourbon for the price, TB paid $29.99, but nothing you need to rush out and buy. Talking Bourbon was scared this was going to taste like Jack Daniels given the charcoal, and as readers know TB does not like JD. Happy to report that Longbranch in no way resembles Jack Daniels.
Longbranch is best enjoyed neat or with Whiskey cubes. When adding ice you lose some of the aromas and flavors. Longbranch is a little too sweet to make a good mixer unless you just like to add a few drops of bitters.
If a sweet Bourbon is your thing, you should definitely give Longbranch Kentucky Straight Bourbon Whiskey a shot. The added smokiness at least sets it apart from other sweet Bourbons.