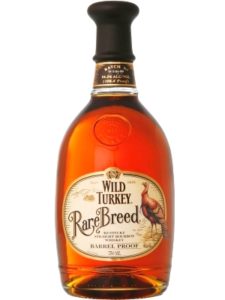 Wild Turkey Rare Breed Kentucky Straight Bourbon Whiskey is yet another offering from the Iconic distillery and Master Distiller, Jimmy Russell. Rare Breed is a blend of 6, 8 and 12 year old Bourbons, and as always overseen by Jimmy Russell himself.
Rare Breed comes in a corked, somewhat squatty, bottle that will remind one of an old time milk bottle. It sells in the $40 to $45 range and seems pretty available. The proof varies a little from batch to batch, with most coming in around 108. The bottle we are tasting is 108.2.
NOSE
Ron:   Strong nose with excellent notes of all my favorites. Caramel, leather, oak, vanilla and plum dominate. Aromas of toffee and tobacco come next. Revisiting the nose after the ice melted, I got a little cocoa aroma (It could be the power of suggestion from Todd, though).
Todd:  Wood, caramel, leather and cocoa upfront. This is followed by slight smells of butterscotch and tobacco. Very, very nice.
TASTE
Ron:   Too hot neat,  As he took his first sip, I believe I heard Todd say Wow! I needed a couple cubes to melt first before continuing the tasting. After I was able to get the proof down a bit,  the caramel, cocoa, oak, and vanilla that I got on the nose all came through on the taste.  Additionally I got a little pepper, spice and citrus. A very good drink. Also got just a slight bit of bitterness.
Todd:   You can tell this stuff is 108 proof, and I agree with Ron that it needs a few cubes to melt before really appreciating this fine Bourbon. Strong tastes of wood and spice dominate upfront. This is followed by caramel, leather and malt. With cubes completely melted got a touch of vanilla. Also detected the bitterness that Ron noted.
FINISH
Ron:   Long, warm, slightly bitter finish with hints of honey and clove.
Todd:  Med-long finish with a sweetness turning to a very slight bitterness. Nice burn on the back of the tongue even with melted ice.
OVERALL
Ron:  It's been a little while, maybe over a year since I last had Rare Breed. Loved it then but was really loving it today! The nose alone knocked my socks off, no really, they are off.
Todd:  Real good, and even though I am a big fan of Wild Turkey 101, I am now a much bigger fan of Rare Breed.
Nose     4.75 out of 5
Taste      9.25 out of 10
Finish     4.25 out of 5
Total Score       18.25 out of 20 Barrels
Maybe it was sitting outside on a nice day, maybe hanging out with a friend, maybe just not being at work when we probably should have been, whatever the reason Rare Breed blew us away.
This Bourbon is a little cost-prohibitive but you could have a fair argument/discussion as to it being twice as good as WT 101 which sells for half the price. For our money it is worth the upgrade. Also remember, Rare Breed is bottled at a higher proof so you are buying less water.
Final thought, rob the kids piggie bank of change if you have to but buy a bottle. You will thank us.