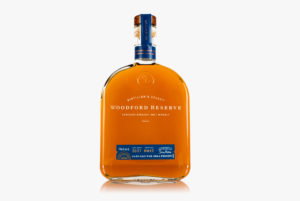 Today Talking Bourbon is tasting a relatively new offering from the Woodford Reserve Distillery. It is their Woodford Reserve Kentucky Straight Malt Whiskey. To be called that it has to have at least 51 % malt, the rest of the mash bill is mostly corn with a little bit of Rye. For a point of reference Bourbon usually only has around 5 to 7 % malt in the mash bill. So expecting a very different experience here.
Woodford Malt comes in the same style of corked bottle as all of the Woodford Whiskeys. It is bottled at 90.4 proof, sells for around $38 for the 750 ml and while not found everywhere, it is not hard to find with a little looking.
Talking Bourbon is not a huge fan of Woodford Reserve, but does really like their Double Oak and the Woodford Reserve Rye, here's hoping that the Malt falls into the like category. Here's also to hoping it doesn't taste or smell like Scotch.
NOSE
TB:     Well, it doesn't smell like Scotch, but to no surprise, being 51% malt, it does remind one of Irish Whiskey. Also get caramel, spice, wood and an earthy aroma. Behind all this is a slight hint of orange.
TASTE
TB:    Very smooth, even neat, and possessing a very unique flavor.  Pretty much getting all the things that was on the nose. Irish Whiskey, caramel, spice, wood and a slight hint of that orange.
FINISH
TB:    Medium-long with a lingering sweetness.
OVERALL
TB:   Talking Bourbon really enjoyed tasting and drinking Woodford Reserve Malt.
Nose        4.25 out of 5
Taste        8.25 out of 10
Finish       3.5 out of 5
Final score        16 out of 20 barrels.
Well keeping with tradition Talking Bourbon likes everything from Woodford Reserve except Woodford Reserve. This is a good Whiskey at a good price point with a very different taste profile from either Bourbon, Scotch or Irish Whiskey.
Talking Bourbon recommends adding a bottle of Woodford Reserve Malt Whiskey to your collection and breaking it out on those nights(or days) when you feel like something out of the ordinary.