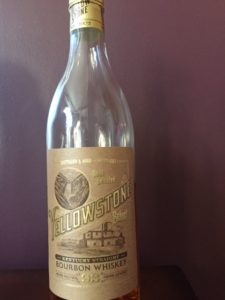 Here is example where one word makes all the difference.   Yellowstone Select is not to be confused with bottom shelf dweller Yellowstone original. While both are Kentucky Straight Bourbon Whiskies, only one says Select. To confuse you a bit more, there is also Yellowstone Limited Edition, which sells well over $100 for a 750ml bottle. We are not fans of the original version. Ron recalls a "brain killer" of a headache the morning after too much of the original bottom shelf stuff. To this day he is sticking to the story that it was not the volume consumed, but who could know for sure.
Yellowstone Select is a blend of 4 to 7 year old Bourbons and sells for around $45-$50. It comes in an elegant, if somewhat plain tall corked bottle. It is bottled at 93 proof and while somewhat available, it is not everywhere.
This was a little difficult to investigate but after some exploring the web, Yellowstone Bourbon started in the 1880's by J. B. Dant, son of legendary J. W. Dant and was named after the newly opened National Park. In the 1960s it was the largest selling brand of Bourbon in Kentucky. Over the 120 year history the Yellowstone brand changed hands 5 times with the last sale, in 2004, to Luxco (formerly known as David Sherman Co.). In 2015 Luxco bought a 50% stake in Limestone Branch, which produces the Yellowstone Select as well as Yellowstone Limited Edition Straight Bourbon Whiskey. Now that is a lot of history to process!
NOSE
Ron:     Caramel and pear hit me first followed by hints of vanilla, wood and toasted nuts.
Todd:    A decent nose even though the only dominant scent was of multi-grain bread. I get nice secondary aromas of leather, oak, cedar, tobacco and black fruit.
TASTE
Ron:    Mostly get on the tongue what I got on the nose. Sweet caramel, vanilla and toasted nuts. Not much in the way of secondary tastes, maybe just a slight bitter, medicinal flavor.
Todd:   Like the nose, nothing dominates. I get hints of the grain, leather, tobacco and oak that I got on the nose. Also pick up faint tastes of yeast and the bitterness that Ron mentioned.
FINISH
Ron:    A sweet medium-long finish with just a trace of something that is reminiscent of walnut shells.
Todd:     Medium to medium-long finish with a nutty sweetness.
OVERALL
Ron:    This was a bottle Todd picked up at a Bourbon lottery last December, and while I liked it I am not sure it is worth the premium price. One note, I did like it slightly moreso once a cube had melted.
Todd:     Yeah, I remember the lottery and how this was about the only thing left that I didn't have or hadn't tasted. I have to echo Ron's sentiments, enjoyed it but probably not worth $45-$50.
Nose     4 out of 5
Taste      8 out of 10
Finish     3.75 out of 5
Final score      15.75 out of 20 barrels
As we have stated many times we take price into consideration and while this Bourbon was enjoyable to drink, it is priced a little too high. At $45-$50 plus, it is too expensive to mix with anything but water, and not complex enough neat or on the rocks to justify the price.
Final Verdict, If you see Yellowstone Kentucky Straight Bourbon Select on sale for under $40, give it a try. If not, there are others more deserving of your hard earned cash.