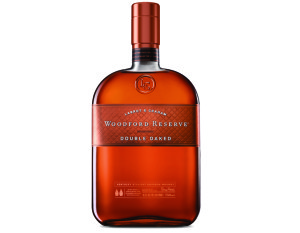 Woodford Reserve Double Oaked has been a favorite of ours since it was introduced a few years back. Having said that it has been a while since either of us have had a taste. Would we still hold it in such high regard?
Double Oaked is the standard Woodford Reserve Distiller's Select aged an extra 9 months in barrels that have been lightly charred but toasted twice as long. DD is at the higher end of the price scale selling for around $55 for the 750 ML bottle, is 90.4 proof and is widely available. It comes in a corked bottle that has the same shape as the Distiller's Select.
NOSE
Ron:   Robust alcohol immediately on the nose but not in a bad way. A lot going on here including a strong aroma of butterscotch, caramel, leather, cherries, and tobacco. Behind all that I picked up a little cinnamon and honey.
Todd:  Wow! This has to be one of the best Bourbon aromas I have ever come across. Like Ron I got an overwhelming nose of butterscotch along with caramel, leather, cherries and the cinnamon. I also got hints of chocolate, vanilla and a nutty, sweet cake aroma.
TASTE
Ron:  Almost everything I got on the nose I got on the tongue. Heavy on the butterscotch with caramel, leather, honey and tobacco right behind. I also got slight tastes of toffee.
Todd:  Smooth even neat but really shines with one cube. Like the nose there was an almost overwhelming taste of butterscotch and caramel. Getting past that I detected cherries, vanilla and cinnamon.
FINISH
Ron:  Medium to long with a ever-so-slight bitterness to it.
Todd:  Medium to long with some type of woody taste. I also got that strange slight bitterness that Ron got.
OVERALL
Ron:  This is definitely different than the regular Woodford Distiller's Select. Last time I tried this was almost 2 years ago and while I thought it was great, I do not remember getting this many aromas and tastes.  This is great stuff! Side note, I prefer DD neat.
Todd:  Really liked Double Oaked. Lot on the nose, the taste doesn't disappoint and has a nice finish The extra time in the barrel adds a complexity that  the standard Woodford just can't match.
Nose     4.75 out of 5
Taste       9.25 out of 10
Finish      4.5 out of 5
Total Score         18.50 out of 20 Barrels
Well guess that answers the question of whether we still like this stuff or not. Great nose, taste and finish makes for a great Bourbon. The price is a little steep but at least it is worth it, you are not just paying for some novelty or hard to find Bourbon. DD also makes a good cocktail but why waste it on that?
Our final recommendation, Even if you only take it out once a year, put in a little overtime and get yourself a bottle of Woodford Reserve Double Oaked.